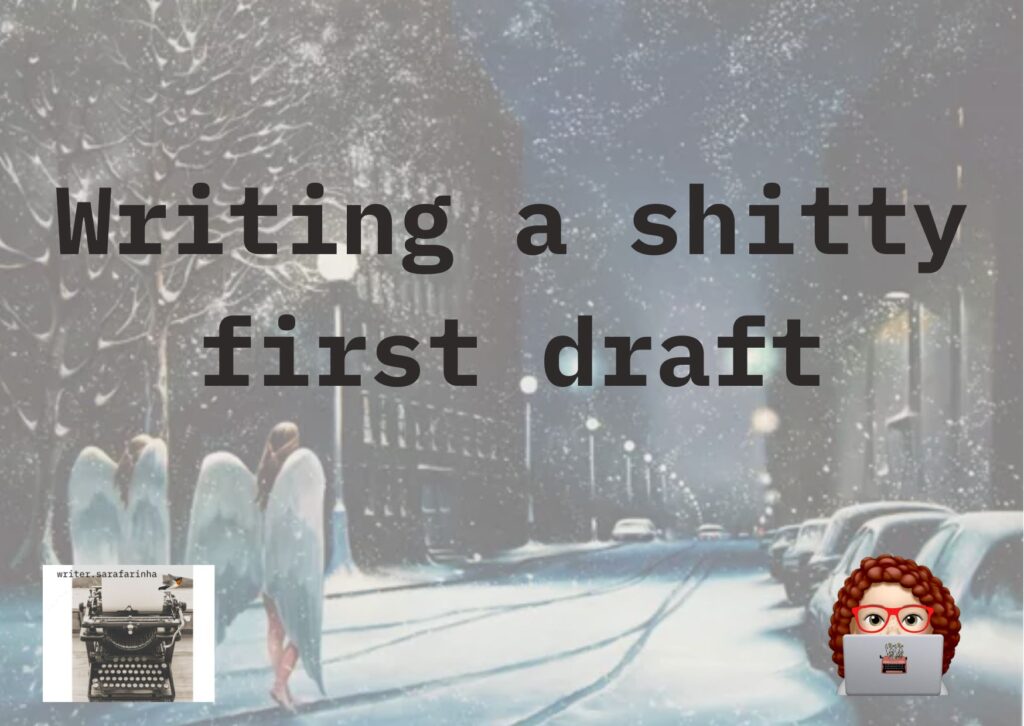 Hello all! Welcome back to this blog!
Today, I want to talk about shitty first drafts and what it means to cope with first-draft situations.
Yes, because I'm 15 000 words into one of these myself and I'm fretting about it. And, yes. Because I need to find a way to cope with uncertainty so I figured that, maybe so do you.
Or a zero draft, as I heard Kate Cavanaugh from You Tube channel Kate Cavanaugh Writes call it. [Check it out, it's a good channel to get me inspired for writing and think about writing themes.]
I keep repeating to myself, almost chanting if I'm being honest, that it's okay to write a shitty first draft.
That I need to put something on the page.
That it doesn't matter what I write on that first draft because it will be worked on, improved and thoroughly revised.
That without something on the page I have no chance to improve nothing… because there is nothing to improve upon.
[See? I'm almost making a song lyrics out of this. Just need the right tune]
I keep reminding myself of that chapter of 'Bird by Bird' by Anne Lamott…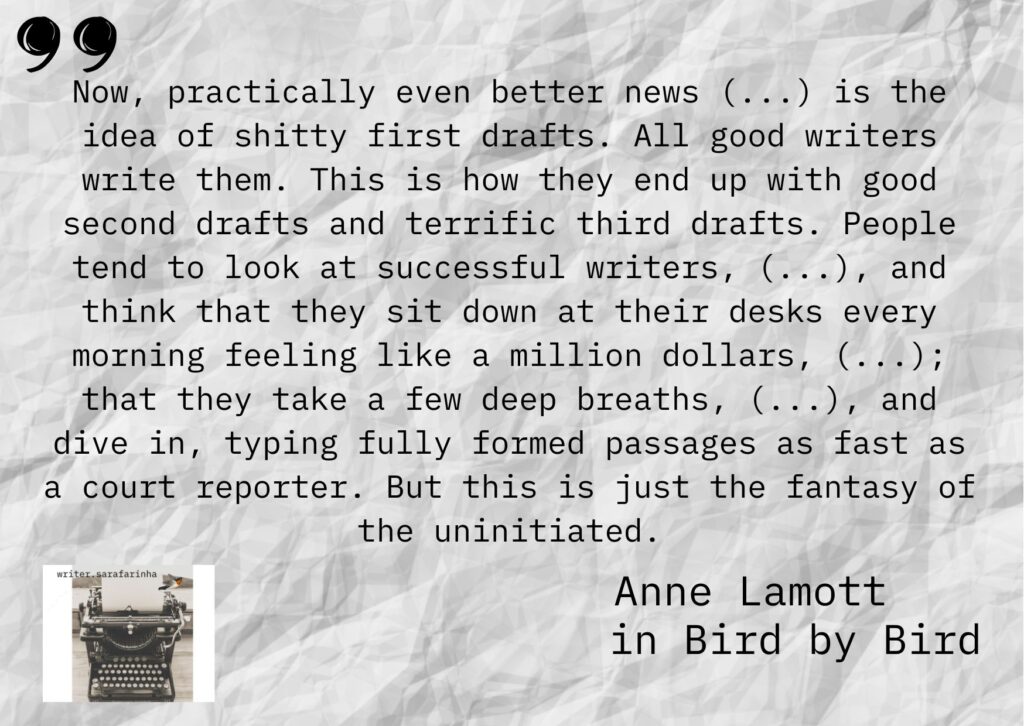 At least, I know I keep repeating all of that to myself every time I'm in that phase of the process where I need to produce a first draft. And it's truly alright to write a shitty first draft.
It's not my first roundabout on first-draft-land. But it's always tricky to drive in such a bumpy, too large, full of holes road… and it's a roundabout, so I am to expect some curves and bad angles and some drivers out of their lanes.
I have done this first draft thing in the long format form for six times now.
I'm counting all of my finished novels, including a published one. But I'm not counting any other form of my writings, which all of them took a first-draft phase, including this article I'm currently writing, and that you are currently reading.
Maybe I should consider these also… and, suddenly, my life is made of first-drafts.
This is my seventh first draft and here I am, in overwhelm-land.
It still gets me every time. Six books in and I don't feel prepared for this part of the process.
It's like I keep looking for things that aren't quite worked out yet to keep myself in the overwhelm state. I look at this first draft and wish I could make it perfect… as it is, and knowing very well that there is no such thing as perfect, I'm sustaining the eyes wide open, rapid breathing pattern and in a constant arrhythmia state, ready to flee or pass out (still haven't decided which one yet).
But I'm not here to complain. Truly, I am not. I'm here to share that this is hard but that I can, and I will persist. And so will you.
After all, I have done it six times already for my novels and a few hundred times for all of my other writing works, like short-stories, poems, blog posts and any sort of creative texts.
I also know that, this too will pass.
I know I'll end up moving forward, plowing ahead, or tiptoeing around obstacles. Or finding some mental assurances and some strategies to make myself cope with the first-draft situation.
Sometimes coping means:
writing my book plans in really big paper sheets. 

constructing cards for my characters.

writing every scene in a A5 card and have a visual of the story entirety.

even writing one version of it by hand in some lame notebook. 

enrol in any challenge that makes me forget the thing in itself and make me show up to the work (I am so doing #the100daychallenge that starts in Feb.22).
I'm even considering using the foolscap method, a Steven Pressfield's suggestion (watch a quick introduction in his Instagram Reels).
Or any other strategy that I feel can help me cope, in this moment, with the uncertainty of it all.
Something like, remind myself why I'm writing this story. Why I'm involved in it. Why my creative path lead me here. And how I felt with a finished book in my hands (not literally).
And maybe get back to the drawing board. To plan my scenes in some way that helps me do this first-draft.
So, I have options. The only option I don't have is to quit. And neither do you.
I'll leave you with another inspirational quote: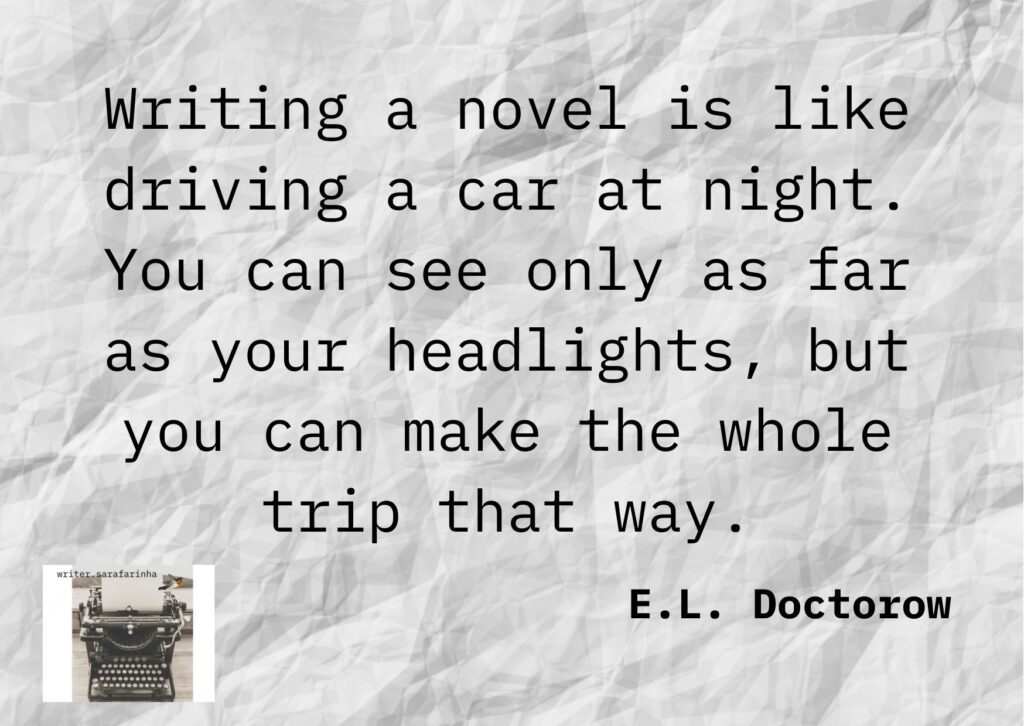 Just keep driving!
Please leave a comment and subscribe for more content.
Bye and Keep writing! ✍🏼
***
References: