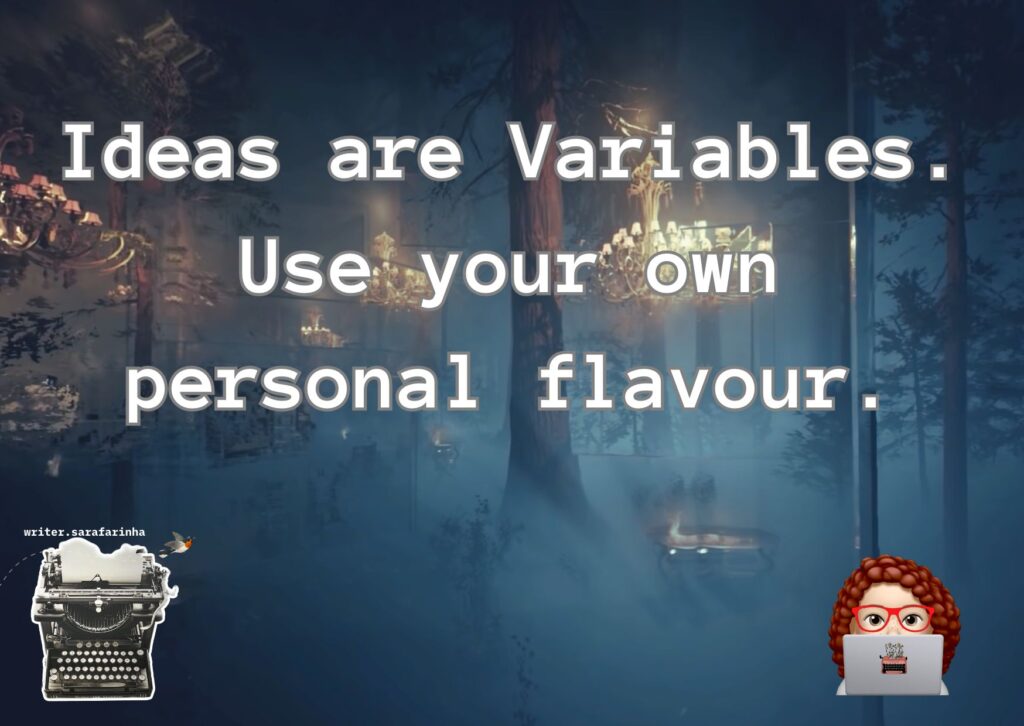 Hello all! Welcome back to this blog.
The Idea is everything. Or is it? When working on some art project, the idea, the first concept is the most important. It's what make us hooked on the work.
But…
All have been done one thousand times. Plus one.
I grew up listening to my father say: "It has all been done before" or "there is nothing new, because everything has been invented" or "We just need to see the variables" or "there is a finite quantity of musical notes and we are bound to find similar combinations in different songs".
All different iterations of the same thought: It is all finite and it's a matter or reorganising the material we have to work with.
Or is it?
I still struggle with these teachings, as my insecurities play their part in the evaluation process of the ideas for my writings.
And even though I agree with the principle of this (we have a group of stuff that we use in repetition), I'm not quite convinced about the part that it has all been done before. After all, between his time and mine lot's of new things got worked on and created.
And I'm not convinced because it lacks the personal fingerprint, the noninterchangeable factor that each one of us puts in all that we do.
We keep evolving and there are things today that didn't existed back in the (his) day. So I figured there is no argument there.
The same goes for all literary creations. New versions of old stories keep showing up and there are good iterations, bad, awful and so-and-so.
There are repetitions and do overs but are they similar to each other? Or is there novelty in them?
And does this matter? Does it matter how many times somebody reiterates the story of 'The Beauty and the Beast'? Or that the retelling is being made?
I confess that, I have been caught mumbling my dislike about the lack of originality, and constant reiteration of the same stories. This process of recycling the same old entails a lack of novelty that frustrates me, when there are so many choices out there for making new films, books, and art in general.
But the truth is, there are different ideas, concepts, ways to create something. There are different views that we can take on an old matter.
Okay, we do not start from scratch. We have concepts, reorganisation of ideias, our own experiences and inputs, that we tap into in order to create an art work.
We do not start from an empty vessel…
…or toddlers would be creating full symphonies at the piano, and writing new future classic stories.
But it's our time in this world, our own personal flavour that makes us grown upon an idea, and infuse it with our own way of work it into a specific creative work.
This is why some creators are so well attached to their initial ideas. They believe in the uniqueness of them, detached from the surrounding world.
They do not share them, afraid they would be stollen and maybe done better by other creator. (Ego scam right here, isn't it?)Even if it's not in their best interest to keep them secluded.
Yes, plagiarism happens. And there is a big fish pond out there, just waiting to take advantage of any crumb tossed into it. Mainly in some quick and easy scheme. More usual than not, it get's eaten pretty quickly and disappears for never to be seen again.
But for the bigger part of my experience, a good idea isn't fundamentally new. Somewhere, somehow, it had been imagined before. Even if it is a quite clever idea. Clever ideas do not mean successful art pieces.
The idea per se isn't worth much if it's not masterly executed.
More, it might be fairly new, and interesting, and well executed, and still end up in the trash can of humanity (of our fellow readers), for a multitude of possible factors.
A fenomenal idea isn't any guarantee of a well accomplished art work. But it's a start. And backing up that start with good working skills, a personal style, and some natural tendencies to network, and sell, it might be a success as any other with the same characteristics.
Is it special? Hell, yeah! For the creator, it's always special.
For the world? Maybe not so much. Not at first and maybe not ever.
But with time, effort, and a grain of magic, it could transform itself into a worldly special.
Having great art concepts, interesting ways of exploring the idea, different backgrounds and experiences to support sources of inspiration, and contributing references, being moved by the need to create good work and devote ourselves to it, is as important as having a great idea.
An example of a frequent failed experience: to successfully transpose an art work into a different means of presenting it.
I was at the movies the past weekend, as I took my daughter to see The Super Mario Bros. Movie (2023).
We loved it.
***
Let me be clear, so you know where I come from in this subject: I dislike playing highly stressful games. And to me, they're all that: highly stressful.
They make me lose my calmness, and get me riled up, when there is no logical reason for it. I just don't handle stress well.
So I do not play video/computer/phone games EVER.
Exceptions were made, occasionally – after I experimented some games and got myself hating the activity, – to Tetris when I was a pre-teen, and the recent Words Of Wonder game, that I enjoy moderately, but rarely play on my phone.
I do like board games, and again, Scrabble is my favorite, even though I rarely play it.
***
I enjoyed The Super Mario Bros. Movie immensely. It has color, action, plot, strong and evolving characters and I know it had a lot of game references that were kind of lost on me (even if my daughter was giving me some tidbits on that).
I specially loved Princess Peach, doing all kinds of fighting exercises in her gown, riding a motorcycle, and basically leading the way. That's a badass Princess over there!
Also, loved the depressed star, Lumalee:
"In an Insane World, the Sane are called Insane." – Lumalee
But how many good ideas like this end up falling short?
Inspired in great works, how many films (reiterations of some art form or another) end up frustrating people's expectations, for a lack of something in the making process?
It isn't just the idea behind it. Because the initial idea is known to have had success previously under some other form. It's something in the current work, in its process, in this particular project, in the people infusing it with a new life.
It's this specific vision, for this particular iteration of the work, that doesn't work.
For The Super Mario Bros. Movie it did work beautifully. Game to movie resulted in a very good entertainment moment.
But just look at how many Spider Man movies have been made, to finally achieve some measure of success – even if, to me, it still seems very far from my best experience from those comic books. (Nop. For me, they still haven't nailed it.)
While working on our special kind of art-poison, listening to our instincts is paramount.
It's not just having an idea but expanding upon it. It's working in finding our personal style. It's knowing what we love and let it lead us to a good iteration of the idea. It's devoting ourselves to our process. It's never giving up as long as we see the magic in it.
And having compassion for ourselves as creators. Find common ground between what we know about ourselves as artists, and what we need to be and do.
Ideas are great. Developing the mastery is a messy trip.
But we are here for the long haul. True?
So let's keep having creative ideas and working on them.
Please leave a comment and subscribe for more content.
Bye and Keep writing! ✍🏼