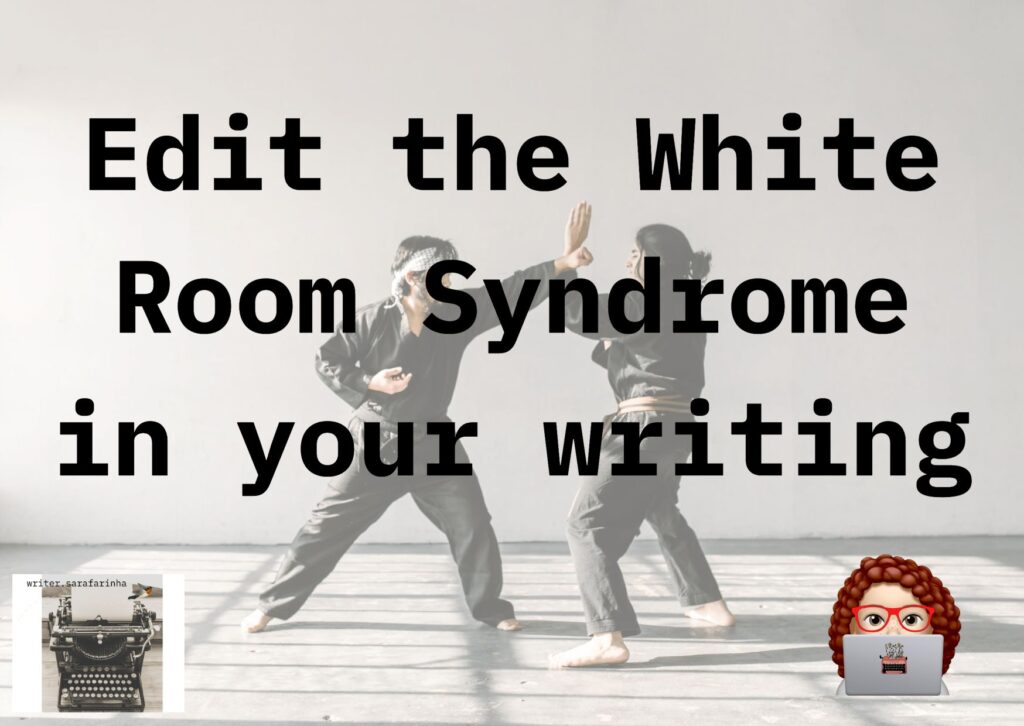 Hello all! Welcome back to this blog!
Let's talk about writing! Let's talk about the White Room Syndrome.
The White Room Syndrome happens when we are writing a scene and fail to give the details to help the reader imagine what the surroundings of the characters look like.
We start telling the story without giving it a recognisable physical space to live in.
The physical details helps us ground a story. Instead of having the action happening in a nondescript, empty scenery around them, we have the opportunity to bring it to life by sharing a bit of what's going on outside our characters experience, and how those surroundings may or may not affect them in that scene.
In further analysis, the details we infuse our stories with, may be of specific relevance and representations of themes and points we wish to make with our stories.
We should never neglect the chance to make our narrative more meaningful and choosing some specific details to intertwine in our narrative will achieve this.
Theme and the White Room
It's not just describing someone's space, making it speak about the character in itself, or decorating the set so we can feel a more vivid imagery and immersion in the story. It's using those references to allude to the bigger theme and propelling our story in the way we want it to go.
Not everything has to have a double meaning, or be on theme, but if it's possible to have double meaning and if it serves a function in the telling of our story, know that she gets better for it.
Describing in the White Room
Description has its objectives and it serves the story, helping to construct a narrative that feels more real. The surroundings can be working with, or against, our characters and thus elevating the story to other levels of artful complexity.
But to capture the scene we have in our head and commit it to paper requires attention to detail. Even if we want our readers to fill in some blanks, and trust me a reader is quite eager to do some of that, we must be careful of leaving too many blanks to fill.
If a reader has difficulty in envision the setting, or if he's seeing something else entirely from what we thought we had created, then we have incurred in the White Room Syndrome.
But this is only contemplated when we have other people giving feedback or if we can distance ourselves enough from our work to catch these inconsistencies.
Fixing the White Room Syndrome
Answering some simple questions like:
What so we want our readers to see in this scene?

What are our characters feeling and how can their surroundings reflect that?

Which objects or surroundings may enlighten the reader toward the characters inner struggle?

Which senses are we using when in that space? (smell, hearing, taste, sight…)
The dangers of Filling the White Room
Be mindful not to over-share information. Those long, boring, uneventful pages of description may be a pain to read and make our readers drop our work as if it burned them. I know I have dropped a few myself.
Over-sharing is a very common mistake and it hurts our story. Nobody wants to sit there and read all about every tiny bric-a-brac in a room… or of a story. Too much detail is as hurtful and no detail at all.
Don't use random things just because you want to paint a picture so bad that anything would serve this purpose. There are meanings behind most objects, color, ambiences, weather… Don't use them idly. References will work only if they are respectfully and diligently chosen for some effect.
Avoid the clichés. This is something that is cross-cut in all of it. Avoid a cliché like you would avoid the plague (LOL).
Filling the room with a few well beaten references to some idilic little town, or a creepy old mansion, or using other types of "It was a dark and stormy night" type of descriptions, it's not very imaginative or advisable… Unless you're doing an all cliché type of story.
When we need the White Room to do it's thing
There are certain moments in a narrative that may require a White Room. Like when we want to convey more attention to some character's internal landscape. To focus on the important is better than to distract our reader with the casual and just there for the word count.
In these moments we might want to shed more light into dialogue, or inner monologue, or sensations, and not so much in what is outside our characters. Describing feelings and thoughts gain the front stage to better tell some part of the story, while their surroundings may fall back.
In conclusion…
The White Room Syndrome is something to tackle on a second draft, when we are on the editing phase of our manuscript. It shouldn't be considered in the initial stages of creating a writing piece.
Being too worried with this in an earlier stage may damage our writing flow and the ideas we have for the initial draft… which can always be worked on and improved upon, but later in the process.
And it's one of those things that is here to remind us that art is made of meaningful details added in specific moments, when we are focused on making our writing better and more meaningful.
In our composing efforts we should pay attention to it in order to improve our manuscript. But we shouldn't let it define us while we are creating a piece.
We have been suffering from the "show don't tell" and "the cut all the fluff out", at least I know I have, so it's normal that we have difficulties in discerning what details to put into our stories. Good editing will solve that.
I'll leave some outside articles for further reading and reference below.  
Please leave a comment and subscribe for more content.
Bye and Keep writing! ✍🏼
***
References: