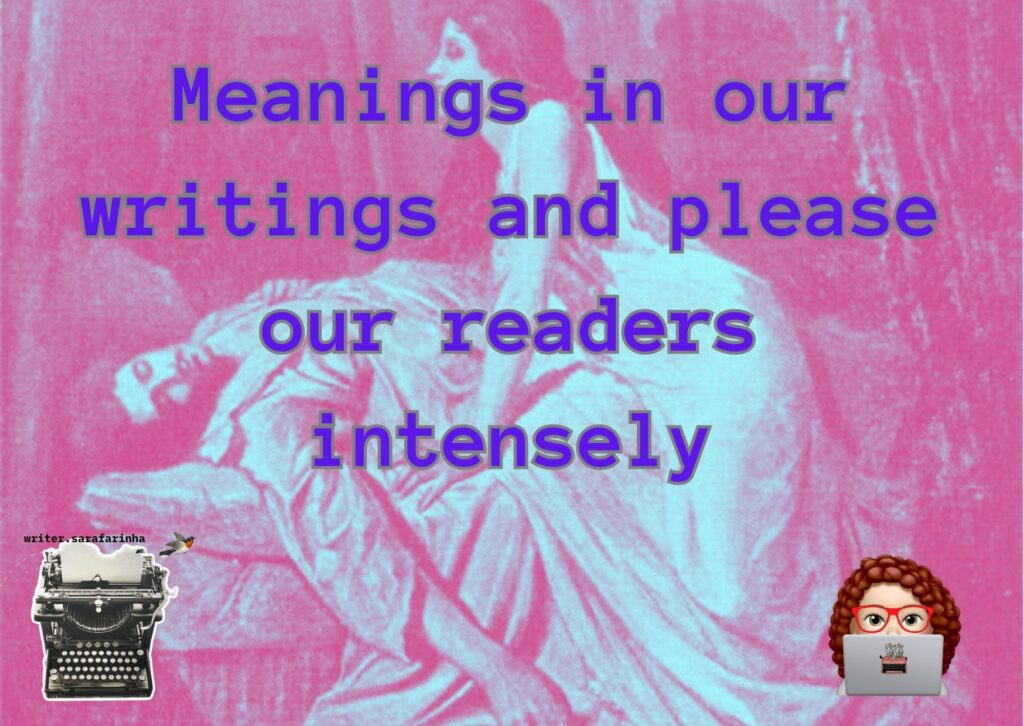 Hello all! Welcome back to this blog.
A clock isn't just a clock. It's a symbol of other things that permeate the story. 
Mentioning a season isn't just how'a the weather or to place a story in time. It has meanings, and connotations with life itself, human life spans, among other things.
Our references, all the things we read and watch, live and learn, bring us to the threshold of deeper meaning and purpose in the stories we write.
This reminded me of a personal story…
In my high school senior year, one of our Portuguese Language class assignments was the reading, and study, of a particular theme in a Portuguese Classic work. We had to write a paper, and present it, in front of the whole class.
The book contained a lot of themes from which to choose from: plot, characters, places, symbols, and other sorts of fundamental pillars, that served as building blocks for that particular story.
I admit, it was rich in possibilities.
But, truth be told, I hated that book.
It was long and boring, I couldn't understand half of it, and so dull that I kept falling asleep before the first twenty pages were up. It was a painful read for the time… and I took the class a second time, to improve my grade and have the chance of a better access to college. So, I suffered the boringness twice.
I guess it doesn't matter which book it was, but for this story intents, I'll leave the link here:
I don't believe it was ever translated to english. It didn't made it to the worldly stage, like Saramago's work, for example.
And the shock I felt as I discovered it was made into a film!
The book blurb goes as follow:
Aparição is a novel by Vergílio Ferreira in which he discusses philosophical theories connected to existentialism, written in the first person.
Need I say more?
The movie trailer got me curious to see which parts of Évora I do know… and that's about it for the current me book reader.
But, back to the subject at hand.
Can you guess what I chose to study and present a paper about?
Symbolism, of course! In both years. And, no, I didn't cheat on the second paper.
I will not pretend to have been interested in it so much that I went back to the existentialism theories and construct upon those. No. I wasn't so great at philosophy either but, I was good at the Creative Writing part of it though.
So, I stuck to the more immediate symbolism of the different objects, ambiances, and words used in the text. Grouping them into different types of symbolic representations and delivering a multitude of possible meanings, and how those served the text in itself.
Looking at it from the symbolic perspective was fun. And it was the only theme I could have dealt with at the time.
But still, I didn't go too deep, alluding more than actually stating through text. Yes, the animosity between me and that book got me little to nothing invested in studying it. I was sixteen at the time so…
But this experience with symbols, symbolism and layers upon layers of deeper meaning, got me hooked.
I have read books on it, and watched college lectures about it, and pinpointed examples of good, not so good, and poorly written symbolisms, always sharing the opinion of those who favor symbolism as part of a more meaningful construct, rooting fictional stories into deeper meaning.
[For years that I have been eyeing a Dictionary of Symbols that costs a small fortune]
We write to connect people. We write stories bringing our experiences and personal reflections to the plots.
Symbols and working with other levels of meaning, gives meat to the bone structure of these stories.
Understanding how certain words may allude to particular themes gives dept, and some complexity to our stories, and to every other artistic representation.
It's not just listening to a catchy tune, but understanding the lyrics. Not just watching a movie, but capturing the ambience and the mood intended. It's looking at a face, in a painting, and recognising the expression in the eyes. It's not just quoting a phrase of some random book, but scrape the fluff, and connect with a representative meaning.
A clock, a meal, a particular time of the day or night, the season of the year, a facial expression, an action, a lack of action, a physical place… all have meanings, and can be worked into our story as representative details that help compose a really great piece of storytelling.
And it's fun to locate those pieces of deep meaning in our stories, and make them work for the success of the plot, and for the possibility of bringing our art to a new level of mastery.
Intelligent people connect through meaning. And readers are in the intelligent game, aren't they?
I believe they are. 
And so should we, the writers, be.
Please leave a comment and subscribe for more content.
Bye and Keep writing! ✍🏼